We have our rain garden now. I put lots of photos up on facebook. I'm excited to see it grow and especially see what it ends up looking like next year. It was a lot of chaos and work, but I think it will be worth it.
I got all 4 of my wisdom teeth removed on the 18th, and contrary to what everyone has told me, it has not been easy! It's been a really frustrating healing process for me, still pain and soreness every day. I went back to the dr. today instead of waiting for my check up appointment next week, and they told me I have dry socket and put some dressings in the two lower sockets to help with the healing and pain. It makes everything I eat taste like cloves! But it has made me feel a lot better today! And I got refills on my pain meds also, so hopefully I'll actually be able to sleep through the night tonight. I haven't been able to for over a week.
I got belated birthday money from my in-laws and grandma in-law recently, so I bought myself a new iPod that actually works! Mine was 4 years old and acting up and then pretty much died on me. It's nice to have a new "fancy" one that has way more space and I can watch videos on and stuff. Love it.
I also went to IKEA today after my check up and bought new laps for our bedroom. Every lamp I tried on my nightstand was a pain to reach to turn on and off, so I finally got one that works nicely.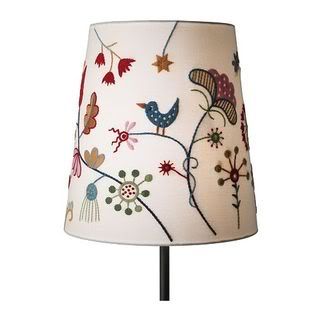 I can't believe that it's already almost June. 6 months with no job and time is flying by with my days still full and haven't gotten dull yet. Still applying and getting lots of rejection e-mails but I'm hopefull that someday it will work out for me. These last few months have been hard but amazingly wonderful at the same time. I feel like I've been growing and learning so much.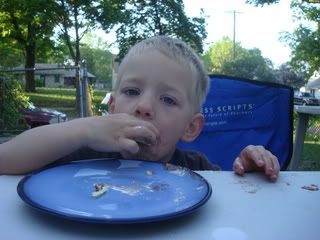 I left this one large so you can see my slightly swollen and bruised face on Friday.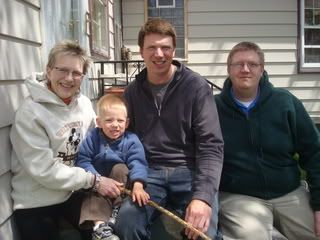 Recently, we've had every weekend full of plans. We've seen lots of family and friends, celebrated Mother's Day, went on a church marriage retreat, met lots of new people, started membership classes at church.
katie in town from baltimore.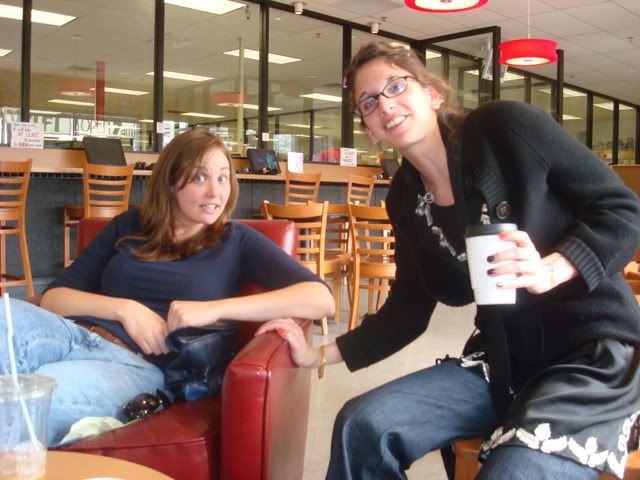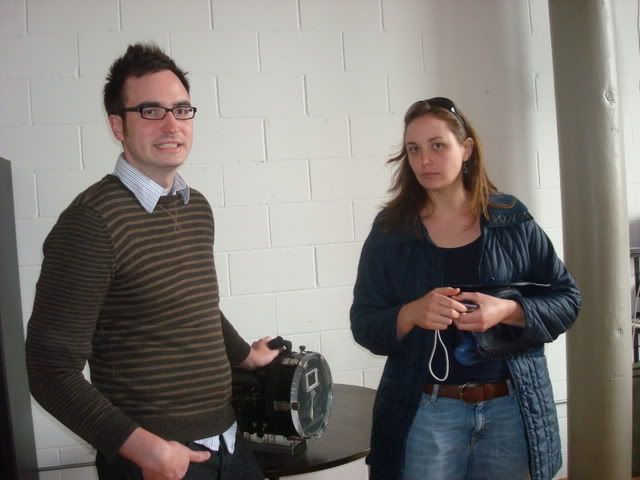 michelle visited from fergus and we got some scrapping done!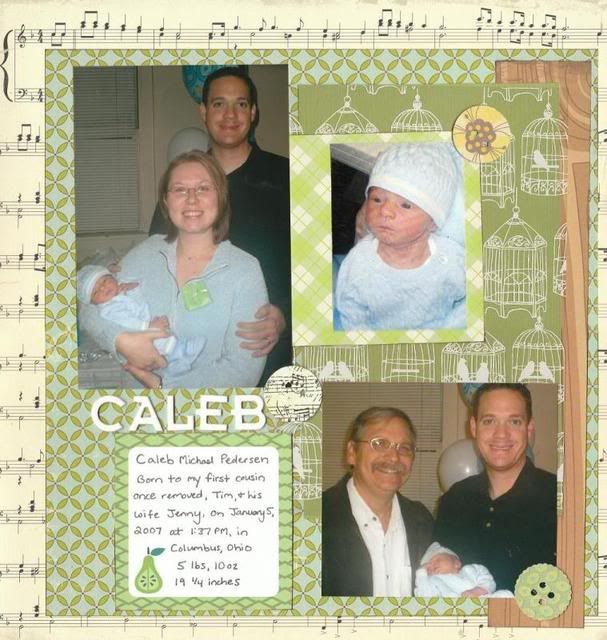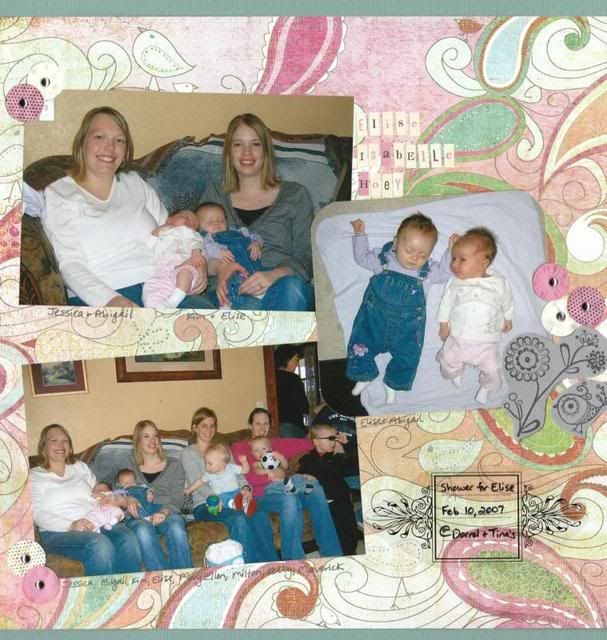 bought some thymes olive leaf lotion on sale after not having around for a while. love that stuff.
joined the church choir and am singing in the soprano section.
getting a rain garden put in our yard next week!
have a long list of to-dos! and am excited to make some cards and send some snail mail.
friends, shopping, scrapping.


Low - Words

Many memories. ;-)

I found some CDs in my closet when I reorganized it last weekend and I've been putting them on my iTunes, finally! I am rediscovering all kinds of great music.

Today is a great day! Love that the sun is shining! I took Cash for a 45 minute walk on the parkway and it was lovely. He was pretty exhausted and I found it quite funny when he just laid down in the hallway when we got home!

It has been interesting getting to know the roads and parkway intersections and everything better. Have to find new routes to familiar places because we are one block off Lowry, and they closed Lowry and tore it up for who knows how long. They are continuing the nice boulevard that they started on the other end of Lowry, so it will be nice when it's all done. There are other random spots of road construction around the neighborhood as well. Victory Memorial Parkway is much busier these days!

Off to do some dishes. I still haven't done yesterday's....I was cooking dinner and doing dishes and it really smelled nasty so I opened up the cupboard beneath the sink and there was water in there. It was so gross! Trevor had to run to the hardware store and fix the problem after dumping out the cleaning supplies container that was full of old dishwater....I'm glad it was an easy fix, but I put off being around the sink for as long as I could before trying to do the dishes!
On job:
I am still looking. There seems to be more out there right now than when I was looking in January and February, so I have hope I will find something good in not too long. I've been contacted about a few jobs recently, but they have been entry level or temp positions, and it's hard to go back to a $12 an hour job, when that's where I was years ago and that's less than what I get from unemployment! I am holding out hope for a bit longer that I can get a job that I can use my experience at and that I can enjoy at least a bit. ;-)
On house:
We have been getting bids for stuff that needs to be done around the house, mostly exterior stuff. Then we need to figure out where/how we're getting the money to do it. This includes a new driveway (I should take a photo of ours so you can see why), a retaining wall because our yard is eroding and falling to the sidewalk (we live on a corner), new gutters, a new fence (Cash can actually sneak out of our yard now due to our fence that's falling apart), a new garage roof, etc.
Thankfully, we are getting a new roof for our house for free due to hail damage that we hadn't realized was there. A new 10k 30-year roof. How awesome is that? We're having the same company due our new garage roof, but will have to pay for them to raise the roof to put on a proper one along with the new shingles.
Through our neighborhood, we are most likely getting a rain garden put in as well. A landscape guy came by last week to discuss it with us and will be sending us his design ideas. Then it is dug for free, and we are given a $100 rebate for the plants. Pretty sweet. We are thinking we'll put it in the front yard.
On church:
Our class through church, City Matters (on justice, race, and place matters of the city) ended, and we miss seeing those people every week! We continue to attend the monthly neighborhood gathering and are really liking it and the people. We signed up for a marriage retreat in May (the goal is 60 couples) that should be pretty cool, just got to find a place for the dog for a night. And right now I am debating on going to the relaunch of the Sanctuary Choir...it's tonight. The only thing that is holding me back is the commitment. If the choir sings every week, that would be tough. There are two services and they are long...and we are gone a lot of weekends. But, maybe I should just go and find out? I tried to e-mail with some questions but haven't heard back.
The past three weekends have been spent with family- for Trev's cousin's wedding festivities and for Easter. It's been really great! This weekend one of my best friends will be in town from Baltimore, and we're going to M. Ward at First Ave. Saturday night. Then on Sunday my friend Michelle is coming from Fergus to stay a night and hang out and be crafty.
I'll have to update again soon. But right now I've got to get dinner started!
At Easter in Sheboygan: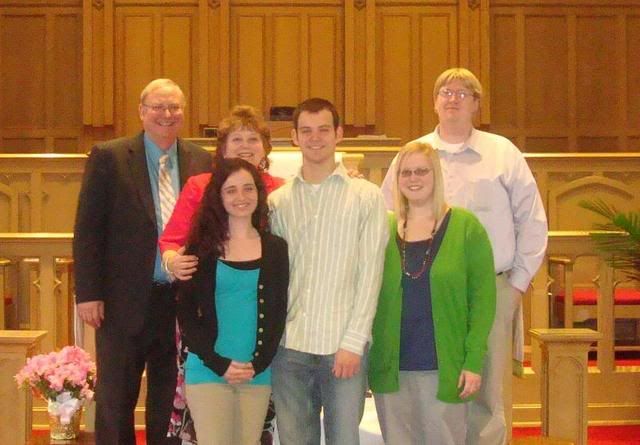 At the Wedding:
They had a photo booth!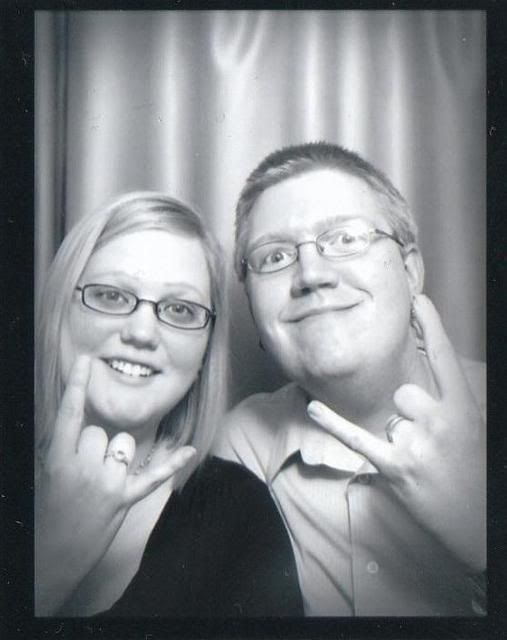 Here's Trev with some of his cousins. Six weren't at the wedding:
Hello. Not as many people updating these days, and that includes myself. I guess I admit it's much more fun to post when I am getting comments. ;-)
I am, on the other hand, missing my family a lot. my relatives. and wishing i could be in warmer weather like i was in this photo!
Royce was over last night and we watched some season 1 episodes of Flight of the Conchords. Today Trev is at the North Housing & Home Improvement Fair. We have neighborhood group at Neeraj and Erin's tonight, then dinner club with Timi and the rest she's gathered. It's at
Spoon River
. Never been there before.
Hope you're all having a fantastic weekend!
Made this page last night. I am really happy with it.
This week I made two photobooks. One on Shutterfly and one on Snapfish. One I got free with mycokerewards points and one i thought was free due to a blog I read but they were wrong.
I hung out with my friend Emily and met up with my friend Jahna I haven't seen in years.
I watched a weird New Zealand movie that had Jemaine Clement from Flight of the Conchords in it called Eagle vs. Shark.
I felt weird and down and uncomfortable on Tuesday and then realized on Wednesday that Tuesday was a full moon. Never fails.
I worked out at the gym 3 times and brought my iPod with me for the first time. Went much faster.
I completely cleaned and organized the laundry room.
I cooked a few meals and cleaned up those meals.
I designed invitations for the family wedding shower for Trev's cousin and I'm putting them together this weekend.
I went to City Matters class and had really good discussion about identity. Next Monday is the last class. I'll be sad that it's over.
I thought about updating my amazon wishlist again....my birthday is the 31st. I'll be 29.
I looked for jobs and tried not to get too frustrated.
Now I must get a few more things done before Trevor gets home. We are driving to Fergus to stay at James and Michelle's house for the night and then drive back home tomorrow. Our friend Jen is house-sitting/dog-sitting (J&M have two cats).
Hope you all are having a good week!
(
a couple more
Collapse
)
I'm still around.
+Happy with my weekend. Good movies, new friends, good church.
+Cash the cockapoo and Jaxon the shih tzu chasing each other around looked like two teddy bears playing.
+Happy that I have such a great supportive husband and that his 31st birthday is tomorrow! Cupcakes and pool league.
+Saw this pillow in a magazine months ago, finally saw it at Target and bought it. :-)
+Happy with the Oscars. Those Slumdog Millionaire kids were so cute!