happy football day. i made rice krispie treats and artichoke and spinach dip and we are headed over to cousin Kevin's to hang with the cousins. hope you are enjoying your day!
This is what it looked like:
I took Jeanette's advice and bought recycling bins at IKEA! Here's what it looks like now. The whole booth area is free and clear and the dog's food and water moved over there, and the recycling is now by the garbage can in the corner by the fridge: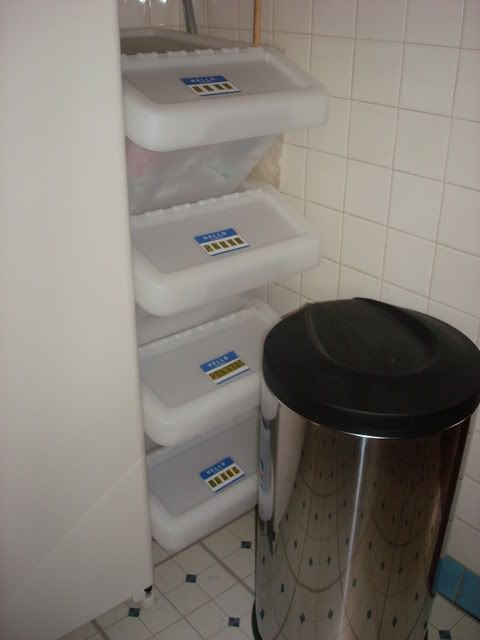 I love it!
Secondly, Cash Howard got really hyper randomly a few minutes ago so I decided to catch it on camera. I think I need to take him for a walk!
Enjoy!
First of all, I showed you our recycling situation, and it is what we've had for years! We always recycle a lot, so I just got more and more annoyed with all the space the paper bags took up.


Already got some grocery shopping done this morning and some things done around the house. That feels good.

Lost is on tonight! I can't wait!
The dog is at the groomer getting his hair cut. He's going from big fluffy teddy bear to skinny poodle looking thing I know. So sad but it must be done. We waited too long since his last cut!
For those of you who recycle, where do you keep your recycling? What do you use to sort it? Right now we have paper bags on the kitchen floor and i hate how messy it looks. I'd like something that keeps it all together that I can move out of the way when I need to reach the cupboards near where we are keeping the recycling. We don't have any closets in our kitchen and we don't have an attached garage. Any ideas?
For those of you that have a lot of DVDs, how do you store them? We have run out of room in what we have, and I'm thinking something that has doors or something would look better.
Broiled Tilapia Parmesan
for dinner tonight and served it with steamed broccoli and rice. I thought it was delicious!
Broiled Tilapia Parmesan
PREP TIME 5 Min
COOK TIME 10 Min
READY IN 15 Min
Servings 8 (with mine I only did it for 2)
INGREDIENTS
* 1/2 cup Parmesan cheese
* 1/4 cup butter, softened
* 3 tablespoons mayonnaise
* 2 tablespoons fresh lemon juice
* 1/4 teaspoon dried basil
* 1/4 teaspoon ground black pepper
* 1/8 teaspoon onion powder
* 1/8 teaspoon celery salt
* 2 pounds tilapia fillets
DIRECTIONS
1. Preheat your oven's broiler. Grease a broiling pan or line pan with aluminum foil.
2. In a small bowl, mix together the Parmesan cheese, butter, mayonnaise and lemon juice. Season with dried basil, pepper, onion powder and celery salt. Mix well and set aside.
3. Arrange fillets in a single layer on the prepared pan. Broil a few inches from the heat for 2 to 3 minutes. Flip the fillets over and broil for a couple more minutes. Remove the fillets from the oven and cover them with the Parmesan cheese mixture on the top side. Broil for 2 more minutes or until the topping is browned and fish flakes easily with a fork. Be careful not to over cook the fish.
I made this
Next Wednesday is the season 5 premiere of Lost!
Season 5 & 6 will be the last 2 seasons of Lost. Will they answer all our questions? Of all the mysteries and questions, what are you most wanting to know about?
(
here's my list
Collapse
)
Tonight the 3-hour finale of season 4 of Lost is airing on ABC from 7-10 central.
Some I made the other day:
These are all from 2005.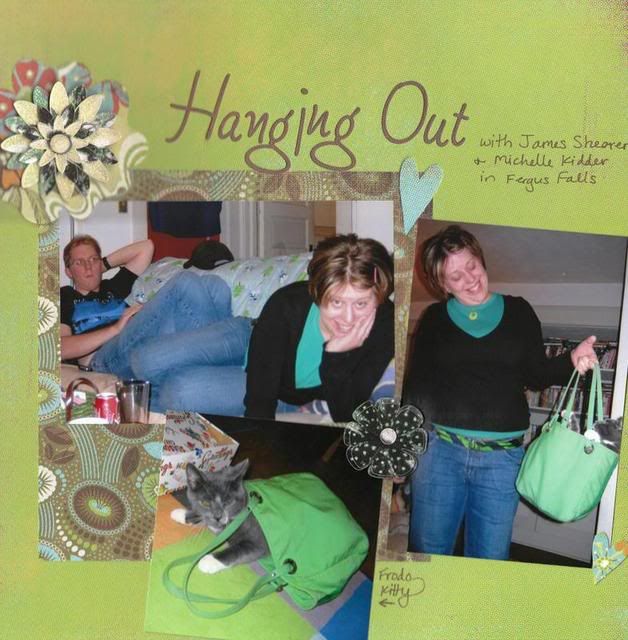 (
a couple more from karly and kris' wedding
Collapse
)
I haven't posted any scrapbook pages in a couple of months, so here are a few I made recently.